Running your business sometimes feels like working on a puzzle that's impossible to solve.
You know they all fit together, but where do you even begin?
My Needs Assessment package will help you organize the pieces in a meaningful, actionable way.
By shining a light on the root causes of your challenges, this assessment will reveal the path forward to kick paralysis and overwhelm to the curb.
Is a Needs Assessment right for you?
Whether you've grown in size, expanded your products and services, or foresee big changes in the near future, it's inevitable that at some point, what was once a well-oiled (or even just oiled) machine will get some grit in the gears.
Maybe you've experienced:
errors and oversights

missed deadlines

small tasks falling through the cracks

duplication of effort

miscommunications

decline in morale

increased stress and overwhelm

increased customer complaints
The Needs Assessment is effective as both a stand alone service to spur internal action OR as a starting point to identify longer-term consulting or business support services.
What does the Needs Assessment package include?
The Needs Assessment includes:
Kickoff phone call

2 in-person meetings

Brief diagnostic report that recommends actionable solutions

Final call to give you the clarify you need to select a course of action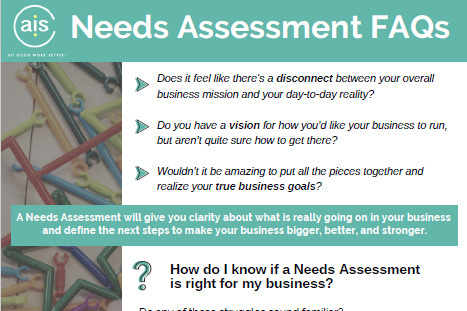 For more details, FAQ, and more info, check out this handy PDF!
Schedule free 30-minute consult call using the button
OR
Fill out the form below and I'll get back to you within 2 business days.
Contact Form for Needs Assessment: